Warranty Information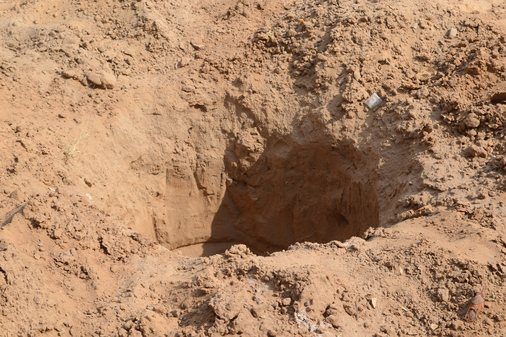 All products are warranted only to the extent of the original manufacturer's warranty. Parts found to be defective in material or workmanship under this guaranty shall be repaired or replaced without charge, F.O.B. original point of shipment, provided prompt written notice of the defect is given within 30 days of receipt and compliance with the terms of the guaranty is established. THE FOREGOING SHALL BE PURCHASER'S SOLE AND EXCLUSIVE REMEDY FOR DEFECTS. Underground Construction Tooling Products (HDD, Compaction Boring and Plowing Blades) are CONSUMABLE ITEMS; therefore, wear caused by ground contact is not warranted. This warranty shall be void if repairs or alterations are made. No person, agent, representative, salesman, dealer or distributor has any authority to change or extend the warranty expressed herein nor to obligate Terra-Bore,LLC by any terms, stipulations or conditions not herein expressed. THE ABOVE WARRANTIES ARE IN LIEU OF ALL OTHER WARRANTIES EXPRESSED OR IMPLIED, INCLUDING IMPLIED WARRANTY OF MERCHANTABILITY OR FITNESS FOR A PARTICULAR PURPOSE.
LIMITATION OF LIABILITY
Purchaser agrees and acknowledges that in no event shall Terra-Bore,LLC be liable to Purchaser or to any third party for ordinary, special, consequential or incidental damages or losses or for any expenses or damages incurred by Purchaser or any third party attributable to any item sold by Terra-Bore,LLC.
IMPORTANT
TERRA-BORE,LLC reserves the right to make changes in engineering, design, materials and specifications: add improvements: or discontinue manufacture at any time without notice and without incurring any obligation related to such changes.
ALWAYS NOTIFY THE LOCAL ONE-CALL SYSTEM PRIOR TO EXCAVATING, PLOWING OR BORING. ALWAYS EXPOSE UTILITIES NEAR YOUR WORK BY A NON-DESTRUCTIVE METHOD BEFORE EXCAVATING, PLOWING OR BORING.
NOTE: All manufacturer's names, symbols, and descriptions are used for reference purposes only, and none of the products listed are the products of these manufacturers.